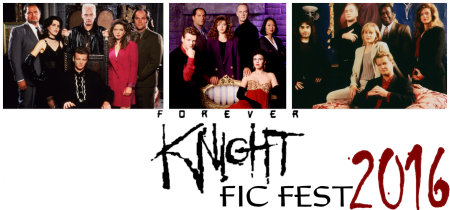 fkficfest |
fkficfest | FKFicFest AO3 Collection
Remember
Forever Knight
's wonderful women characters? Pathologist Natalie Lambert, entrepreneur Janette Ducharme, detective Tracy Vetter, captain Amanda Cohen, technician Grace Balthazar, and many more? Come play in our 7
th
annual ficathon!
Sign-ups
are open until Saturday, June 25!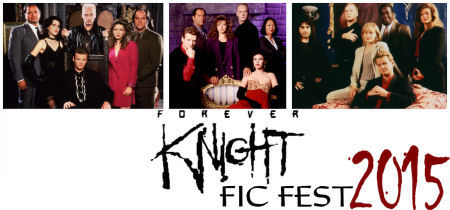 FKFicFest AO3 Collection | All FK on the AO3
fkficfest
/
fkficfest
, the annual
Forever Knight
(1992-1996) ficathon game, is open for sign-ups until June 14. Come one, come all!
You fondly remember this remarkable show and its remarkable women characters, don't you? Forensic pathologist Natalie Lambert. Entrepreneur Janette Ducharme. Police detective Tracy Vetter. Police captain Amanda Cohen. Forensic technician Grace Balthazar. Urs! Divia! Norma! Serena! Lisa! Erica! Sofia! Fleur! Come celebrate
Forever Knight
, its woman characters, and the astonishing fandom of which you're a part!
This is our sixth annual game, so you probably know the drill. (
Complete 2015 rules, instructions and examples
.) We've added one twist: In the event of 8 or fewer exchange sign-ups, we'll throw open the gates with a classic FKFic-L-style "challenge" game.
(
Schedule
Collapse
)
Come play! FK's rich premise and unforgettable characters are ripe for new stories grappling with the new questions in our lives. Which of FK's outstanding women most speaks to you today?
Fandom Nominations
are open for this year's

galentinesday
exchange. Go check it out and write awesome fic about awesome ladies!
femme_fic
's moderator, I'd like to invite you to the 2013
fkficfest
/

fkficfest
game! This exchange ficathon celebrates the the television series
Forever Knight
, the one and only "vampire homicide-cop" saga, starring such unforgettable women characters as Natalie Lambert (human scientist, cat lover, known to cry during
King Kong
), Janette Ducharme (vampire entrepreneur, fashionista, once sighted doing her own taxes), Tracy Vetter (human detective, coffee fiend, living down a childhood nickname) ... plus Cohen, Grace, Urs, Fleur, Divia, Norma and many more!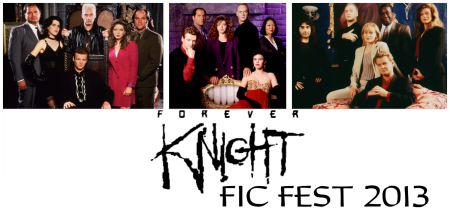 With excitingly diverse new stories, the FKFicFest game revels in our show and the friends we made through it.
Sign-ups close
this Friday, May 17
at 11:59PM (Pacific). Stories come due July 27. Please see the rules and sign-ups post (
on Dreamwidth
or
on LiveJournal
); stories post on the AO3. All
Forever Knight
fans are invited. We'd love to have you play with us!
With the generous permission of
miri_cleo
,
celli
and myself are gearing up to run
remix_her
(DW link)/
remix_her
, and so I have some links to share. This is for
all
fans of female characters, so please feel free to play no matter what type of fic you might write.
Community Rules & Challenge Information
- To answer all your questions, or what we hope will be all your questions. There's information on the exchange portion (for larger fandoms) and the freeform portion (for smaller fandoms).
Poll For Eligible Fandoms
- We started out with a huge list and are trying to winnow down. Please be sure to read the clarification text at the top of the poll.
Comment Ficathon
- Because we ask that you have four fics in a fandom to offer up for remixing if you sign up for the exchange portion, we thought we'd put up a post where people can write fics in order to attain eligibility.
Please spread the links around to interested parties! The more, the merrier!
femme_fic
's moderator, I'd like to invite you to the 2012
fkficfest
/

femme_fic
game! This ficathon celebrates the the television series
Forever Knight
, which features such wonderful women characters as medical examiner Natalie Lambert, nightclub owner Janette Ducharme, homicide detective Tracy Vetter, police captain Amanda Cohen, lab technician Grace Balthazar... and more! 2012 is the twentieth anniversary of
Forever Knight
's premiere — let's celebrate the introduction and endurance of all these outstanding characters!
Sign-ups are open through May 25. Please check out the rules and sign-ups post (
on DW
/
on LJ
) for details; this year, we'll post directly to
our AO3 collection
. We'd love to have you play with us!
With the generous permission of


Join

thefandomzoo!
A new landcomm on Dreamwidth celebrating all fandoms through graphic,
writing, and game challenges.
The Fandom Zoo is open to television, film, comics, books, and games.
Our three teams are The Badass Bears, The Drama Llamas, and The Party Penguins.

ROUND 1 STARTS APRIL 13TH.
APPLY HERE

Be sure to tell them

jenbug sent you!
Speaking of Vala
AUTHOR:
sg_fignewton
RATING: PG-13/Teens
FANDOM: Stargate SG-1
WARNING: none
CATEGORY: Gen; friendship
WORD COUNT: 1200 (12 drabbles)
PAIRINGS: none
CHARACTERS: Vala Mal Doran, Samantha Carter, Ba'al
SPOILERS/TIMELINE: Vala's arc in general and
Memento Mori
in particular
SUMMARY/PREMISE: Fig's
Speaking of SG-1
series, where each team member is featured in a dozen prompted drabbles
Click here to read the Vala drabbles!

TITLE:
Current Mood:

energetic

Current Music:

PJ Harvey "A Girl Like Me"